One of the important indicators of the university's scientific activity is the number of publications and citations of scientists of higher education institutions in foreign professional publications, which are indexed by the indicators of the scientometric database SciVerse Scopus. Scopus constantly indexes more than 20,000 scientific publications in technical, medical, and humanities. This database also includes publications of scientific journals, conference proceedings, and books.
It is nice to note that in recent years our university is gradually improving its position in terms of Scopus, as evidenced by the ratings of universities, which are periodically published by the Internet portal Osvita.ua. The recently published Scopus 2021 rating indicates that the Kharkiv Petro Vasylenko National Technical University of Agriculture has recently risen to 32 positions and now ranks 72nd among 190 higher education institutions in Ukraine (data as of April 19, 2021). KhNTUA ranks 5th among agricultural enterprises, which is also a good indicator.
According to the latest data from SciVerse Scopus, scientists of our university have published 398 publications in foreign professional publications and received 1129 citations, which improved the Hirsch Index by 8 positions.
According to the results of the ranking in 2021, the highest index of higher education among higher education institutions have the so-called classical universities – Kyiv National Taras Shevchenko University, Kharkiv National University named after V.N. Karazin, and Lviv National University named after Ivan Franko, as well as Odesa National University named after I. Mechnikov and the National Technical University "Kyiv Polytechnic Institute named after Igor Sikorsky", which took fourth and fifth place in the ranking, respectively.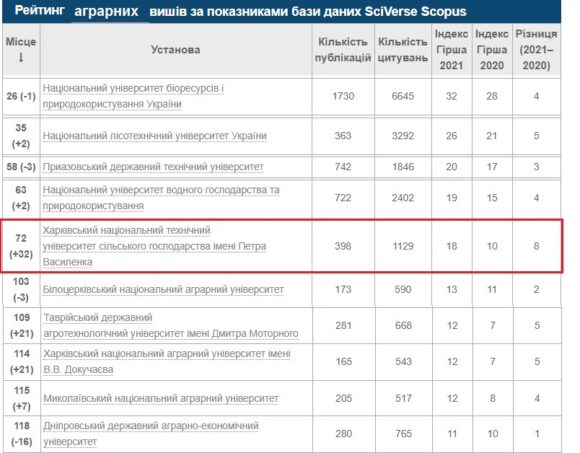 Media Communications Department