The spreader consists of a frame 2, which rests on two self-aligning wheels 3, on which the drum working body 4 (drum) is fixed. It is created so that its axis of rotation is perpendicular to the direction of movement of the tractor 1. The drum 4 is rotated from the PTO shaft of the tractor 1 by means of a double cardan joint 5, gearbox 6, cardan shaft 7 with safety clutch, counter drive 8 and chain drive 9.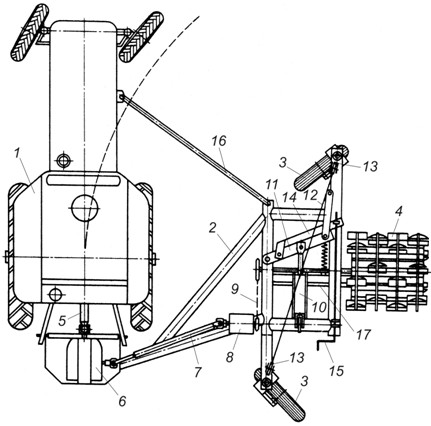 The drum is moved to the working position by means of a lifting mechanism consisting of a remote hydraulic cylinder 10, a lever 11, a cable 12 and guide blocks 19. The distance from the ground to the lower edge of the drum is set by using an adjusting mechanism (14, 15). To ensure the timely departure of fertilizer particles under the drum 4 set emission threshold 17.
In the transport position, the spreader moves behind the tractor 1, for which it is sufficient to disconnect the spacer rod 16 from the side member of the tractor 1 and lock the self-adjusting wheels in the direction of movement of the unit.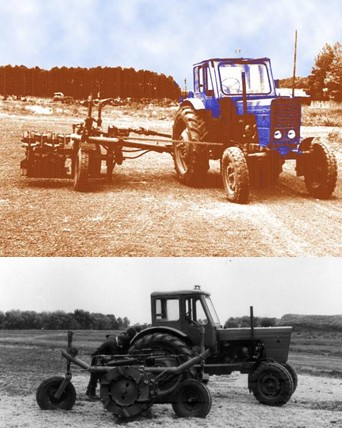 The spreader works this way. At the edge of the field, the tractor driver moves the spreader from the transport position to the working position. To do this, he connects the spacer rod 16 to the right side member of the tractor 1. Approaching the pile of fertilizer at a distance of 1… 2 meters, the drum 4 is lowered into a gentle working position to a height of 0.01 m above the ground. In this position, the drum is fixed by the limiting lever 14. Next, turn on the PTO shaft of the tractor 1 and the work process begins. The unit moves around the pile of fertilizers along the path of the Archimedean spiral, while the drum 4 sinks into the pile of fertilizer and scatters it. .
Technical indicators:
scattering radius – to 15m;

working speed – to 7 km/h;

application dose – 10…80 t/ha;

uneven distribution of fertilizers – ±25%;

type of car – semi-hinged;

productivity – to 1 ha/h;

is aggregated with tractors of a traction class – 1,4.
Author's certificate № 1120931; 11724694; 1303057.
Authors of development: Ph.D. Makieiev N., Ph.D. Anikieiev O., Sen. Lect. Romanashenko O., Sen. Lect. Krasnorutskyi O.