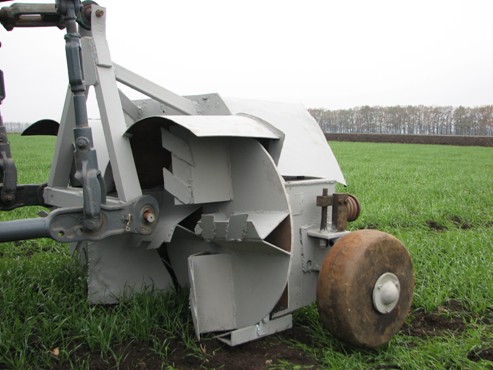 The purpose of the proposed design is to improve the quality of fertilizer application, reduce energy consumption for the spreading process and increase the reliability of work. The spreader of organic fertilizers consists of a frame 1, a drive mechanism 2, a hitch 3, rotors 4, discharge thresholds 5, dumps 6. To the frame of the spreader is attached a divider 7 of the roll, which has a triangular plan. Above the rotor 4 are installed protective casings 8. The spreader frame has support wheels 9. The rotor 4 has a hub to which are rigidly attached support discs with attached blades 12, placed at angles to the radius of the rotor. When rotating the rotors, the toothed knives 13, which are placed on the rotor blades, separate the portions of fertilizer from the roll, which are captured by the grooved blades 12 and ejected at an angle to the horizon.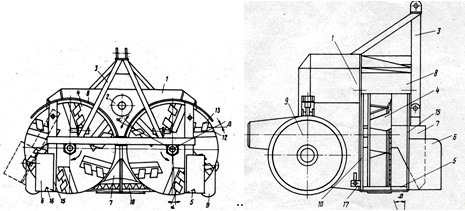 Technical indicators:
grip width – 40m;

working speed – 2,5…7 km / h;

application dose – 10…80t / ha;

uneven distribution of fertilizers – ±22%;

type of car – hinged; · productivity – 3,5…9hа/h;

is aggregated with tractors of a traction class – 3.
Author's certificate № 1459621
Authors of development: Ph.D. Makieiev N., Ph.D. Zaitsev A, Ph.D. Anikieiev O., Sen. Lect. Romanashenko O., Sen. Lect. Krasnorutskyi O.